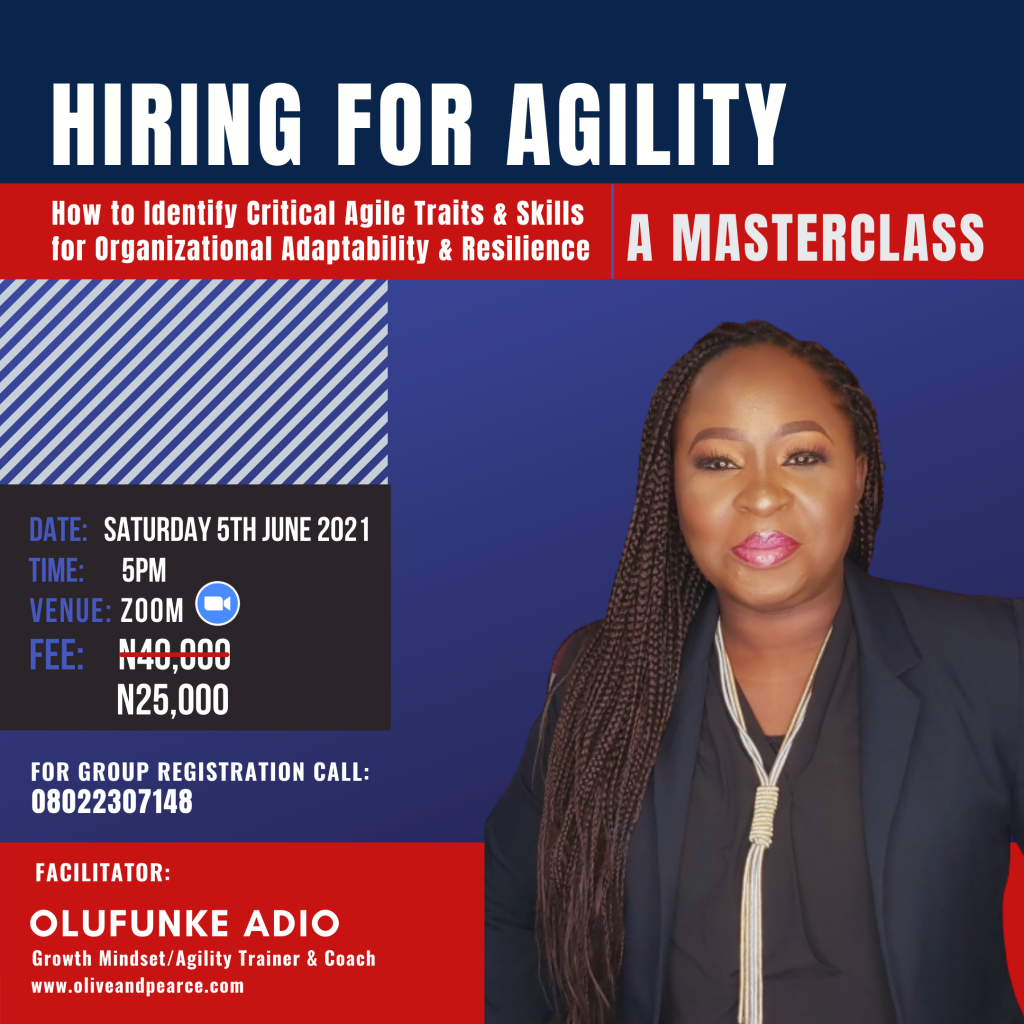 Let's be clear, not all organizations will require innovation with acute speed. Many still require some degree of stability in order to deliver value in the market place. What happens though if as an HR or Business leader you find that you suddenly find yourself in any of the increasingly affected sectors with constant need for innovation, speed to market, customer centricity, team autonomy, creative collaboration etc? Then again, what if your organization decides on a plan to begin to glean from and adopt agile principles in order to get ahead?
In environments as depicted here, traditional techniques to hiring will not cut it! Here, there would be a need for you to help the organization deliver on its value proposition quickly and consistently. And in an era where for many organizations, being able to respond to disruption in a timely manner has become a strategic edge, question is, how do you source for and acquire talent with strong affinity for curiosity, adaptability, collaboration, creative thinking, learning agility?! How do you keep this caliber of talent coming through the door on a consistent and systematic basis?
Without gain saying, the complex nature of problems emerging in today's business environment requires a whole new set of capabilities to tackle. Again traditional techniques will not stand the test.
This masterclass is designed to provide a viable road map in effectively hiring for agile tendencies and competences. It will provide you with full proof ways to achieve success and to consistently deliver on value for your organization.
INSIDE THIS MASTERCLASS WEBINAR
| | |
| --- | --- |
| | Understanding the Concept of AGILE & Agility |
| | Why the world is going Agile |
| | Hightlighting Sectors and Corresponding Innovation & Agility Requirements |
| | Highlighting Hiring Shenanigans: Are HR & Recruiters the problem? |
| | Challenges with Sourcing/Hiring Local & Agile Talent |
| | Introduction to Agility Assessments |
| | |
| --- | --- |
| | Agility Interview Questions |
| | Catering to Agility Postures for Organizational Levels: Entry, Middle & Senior Management |
| | Addressing 3 Agility Domains: Intra-Personal Mastery; People & Teams, Business & Industry Context |
| | Avoiding Agile Recruitment Errors: Eliminating Wastage & Getting it Right the First Time |
AFTER THIS MASTERCLASS, PARTICIPANTS WILL BE ABLE TO…
| | |
| --- | --- |
| | Upskill and improve relevant hiring competences |
| | Eliminate guess work vis-a-vis acquisition of talent with relevant and adaptable competencies for both short and long term requirements of business |
| | Eliminate recruitment errors, process, energy and time Wastage |
| | Actively and confidently prepare their organizations to win in an era of disruption |
| | |
| --- | --- |
| | Harness the agility and adaptability quotient of organizational talent in gaining an edge in the market place |
| | Improve their reputation as effective, value adding recruiters, talent enablers and business leaders |
Wait! There's More! My E-Book Offer for FREE!
TARGET AUDIENCE
HR Executives/Leaders
Recruiters & Functional Leaders
Business Leaders
Interested Individuals
Meet your Course Facilitator: Olufunke Adio
Olufunke Adio started out her work life as an E-learning Executive. She went on to lead a team of creatives at the same IT firm before she delved into Human Resource. She has a cumulative work experience of about 20 years across Consulting, Media and Technology sectors. With a penchant for understanding human behavior and motivation she has since evolved to become a Certified Behavioral Consultant, a Workforce Transformation Expert, a Certified Management Trainer and Agility Coach.
A woman of many parts and a queer blend of the Creative and the Analytical, Olufunke Adio is a sought-after speaker on Personal and Organizational Agility. A vivid representation of what it means to be Agile and with a strong knack for learning new things quickly, she has spoken on several platforms including the Agile20Reflect Festival 2021, [a global platform where she along with Agilists across the US and UK drove conversations around driving the Agile agenda], The Nigerian IT Professionals in Canada [NIPCA], Chartered Institute of Personnel Management Nigeria [CIPMN], the Learning and Development Network International [LDNI] amongst several others.
A Productivity buff with a strong bent for execution, Olufunke Adio brings to bear a keen sense of recognizing workplace performance gaps, productivity related fuzziness, un-productive motion and/or tendencies. A teacher at her core and with her practical and transformational learning interventions, she helps individuals, teams and businesses extend themselves, produce more and EXCEED their goals.
She has implemented both companywide interventions as well as executive coaching for organizations as The Central Bank of Nigeria, CBN, African Re-insurance Corporation, AIICO Insurance, Sovereign Trust Insurance, ABUJA GRADUATE SCHOOL, FACTBase Consulting, MAVEN Williams, LAGOS CHAMBER OF COMMERCE & INDUSTRY [LCCI], amongst several others.
With a BSc in Chemistry from the University of Ibadan as well as a PGD in Industrial Relations and Personnel Management also from the same university, Olufunke Adio obtained a Professional Diploma in Human Resource Management and is anAssociate of the Chartered Institute of Personnel Management of Nigeria [CIPMN].
She obtained a Certification in Behavioral Analysis from the Institute of Motivational Living and People-Keys Ohio, USA; is a Certified Specialist in Emotional Intelligence as well as in Cognitive Behavioral Therapy; A John Maxwell Certified Trainer and Speaker [ICAN Maxwell Africa]. She also obtained a certification in Customer Service from the ROCKHURST University Continuing Education Center, Inc. USA.
Olufunke Adio is the author of two books and several published works including some eighty plus articles on themes as. Learning Agility, Leadership Agility, Growth Mindset, Developing Resilience, Digital Agility, Building Creativity and Innovation Culture, HR, Transformational Leadership, Emotional Intelligence, Productivity and Quality Service Delivery.
She is also a contributor with WorkBooth Magazine, a Pan-African Online Publication with focus on Business and Organizational Management.
A Mental Health Advocate, Olufunke Adio contributes to pushing the Mental Wellness agenda across multiple platforms. She currently supports a group of Special Needs Moms under the Auspice of the Diary of the Special Needs Moms Initiative actively leading conversations and mindset shifts around Resilience, Productivity and Overall Mental Wellness.
Olufunke Adio is the Lead Resource Person at Olive and Pearce, a Workforce Transformation and Productivity company where she assists her clients through, Speaking, Training, Facilitating, Consulting and Coaching.
Reach and Ongoing Collaborations
Testimonials…Experiencing Olufunke Adio's Work

Pay via Bank Transfer
Bank Name: Guaranty Trust Bank
Account Number: 0269278656
Account Name: OLIVE AND PEARCE

For Enquiries: info@oliveandpearce.com