"People are not your most important asset….the right people are."
– Jim Collins
Let's face it, great organizations just don't happen; great talents are responsible for building them. What happens then when your best hands just don't stay? They keep walking out the door!
You don't seem to understand why this is a pattern. You have done your utmost best and that includes even paying salaries above your competition. Even that hasn't had the type of impact you envisaged. The situation continues to impact negatively on your business as well as customers, consequently its affecting your profitability.
Right now you are at your wits end and wishing there was a formula you could apply to turn this ugly trend around. Without a doubt you need to tackle this awfully frustrating situation! If this describes where you are right now, then this webinar is definitely for you. This masterclass is designed to provide viable approaches and strategies to retaining your best employees and harnessing their value to deliver on your business goals, achieve a unique edge and grow your profitability. And what's more? There's a FREE gift to access!
INSIDE THIS MASTERCLASS WEBINAR
| | |
| --- | --- |
| | Investigating the real cause of high attrition |
| | The Real cost of high attrition to your business [Plus effect on general workforce] |
| | Top 3 Reasons top talent leave your business |
| | Identifying key talent in your business |
| | Destructive Impact of Inequitable reward/pay for top talent retention |
| | Destructive impact of bad leadership for top talent retention |
| | Identifying the power of recognition for top talent retention |
| | Tackling toxicity: Impact of toxic culture on top talent |
| | Simple Affordable ways to reward performance |
| | Simple, Affordable ways to develop top talent |
| | Getting Employee Experience right |
AFTER THIS MASTERCLASS, PARTICIPANTS WILL ALSO BE ABLE TO…
| | |
| --- | --- |
| | Determine if truly, the employer is still superior in the employer-employee equation |
| | Overcome traditional and rigid postures vis-a-vis employee policies and practices |
| | Manage their personal and corporate reputation |
| | Articulate the current issues with New World of Work and its impact on their Employees |
| | Consistently feel the pulse of their employees |
| | Have Honest stay conversations with their critical talent |
| | Tackle toxicity |
| | Tackling toxicity: Impact of toxic culture on top talent |
| | Articulate the perculiarities of demographics and their relevance to their business operations |
Wait! There's More! The E-Book Version of Masterclass! For First 20 Participants to Register
TARGET AUDIENCE
Entrepreneurs
HR Executives/Leaders
Recruiters & Functional Leaders
Business Leaders
Interested Individuals
Meet your Course Facilitator: Olufunke Adio
Olufunke Adio is a Certified Behavioral Consultant, a Workforce Transformation Expert, a Growth Mindset and Agility Coach. With a cumulative work experience of about 20 years, she started her Human Resources career in the media sector before delving into Consulting several years later. Her consulting experience has spanned Real Estate, Logistics, Advertising, Pharmaceuticals amongst others. Olufunke Adio's biggest attraction to Consulting is in what she refers to as being an 'Optimizer'; a term/concept referring to a third eye and being able to see practices and behaviours which hamper progress but easily go unnoticed by insiders of organizations.
She has functioned on audit teams effecting HR Audits for both Multi-nationals as well as Indigenous organizations in Nigeria, ascertaining the viability of their HR processes and practices against best practices, professional criteria and compliance.
A teacher at her core, Olufunke Adio is a Certified Management Trainer. She is a member of faculty with the Chartered Institute of Personnel Management Nigeria [CIPM]. She also facilitates with several Management Consulting firms as well as the Lagos Chamber of Commerce and Industry [LCCI].
A digital buff, author and prolific writer of several published works including some eighty plus articles on themes as Learning Agility, Leadership Agility, Growth Mindset, Developing Resilience, Digital Agility, Building Creativity and Innovation Culture, HR, Transformational Leadership, Emotional Intelligence, Productivity and Quality Service Delivery. Her newest paper: SME, HR and the Agile Imperative – A COVID-19 Perspective has been featured in CIPM Journal 2021.
A Speaker and Coach, she has spoken on several platforms including The Nigerian IT Professionals in Canada [NIPCA], Learning and Development Network International [LDNI], the Agile20Reflect Festival, [a global platform where she along with Agilists in Nigeria and across the US and UK drove conversations around driving further the Agile agenda] amongst several others. Olufunke Adio is the creator of the GO-CALL Model for building Personal Agility.
She was a co-facilitator in the capacity building intervention in the first ever Virtual Staff Upgrade exercise of the Central Bank of Nigeria, CBN in 2020.
Reach and Ongoing Collaborations
Testimonials…Experiencing Olufunke Adio's Work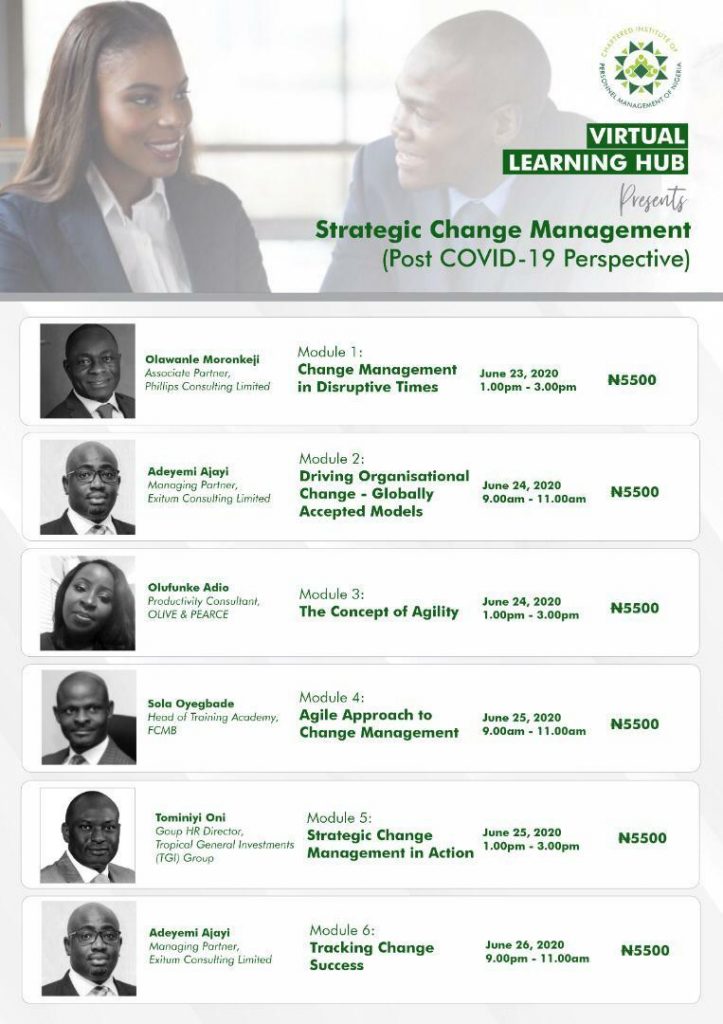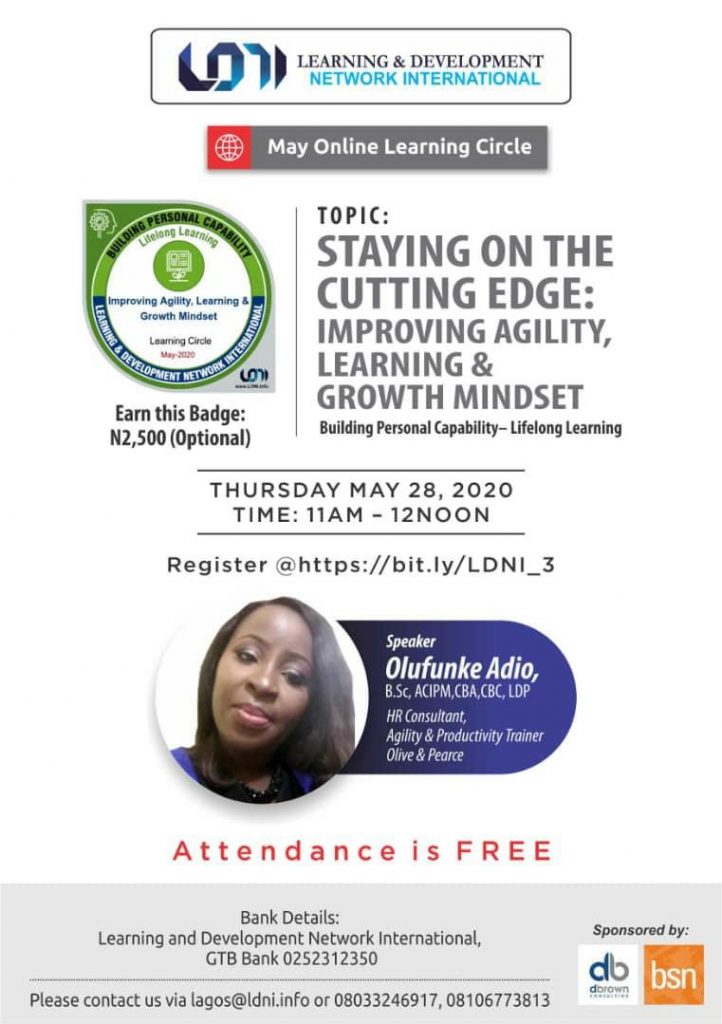 By all means, this course [Making Exponential Leaps: Adopting a Learning & Growth Mindset] is just like a mini MBA. Thank you Funke, the course content really resonated with all participants.
"...The additional slides were great, the message was crisp, your voice was clear. I am looking forward to the full course. Would like to attend the full course!" Review: Leadership Agility Online Course-Draft
Here's acknowledging your expertise on Peak Performance Management and commending you for a job well done today on the delivery of the course. This is Johnson (the genius), so you call him...
I sincerely appreciate your commitment and drive for quality service/delivery.
I'm glad you honored us. You added exceptional value. All the participants were happy with your presentation. Surely more collaborations will come!
All sections of the lecture was quite educative and explanatory. I enjoyed the lectures and looking forward to this lectures from time to time. Mrs Adio Olufunke did a great justice to the lectures. I am quite impressed and I thank CIPM .
Interesting, helpful and it exposed me to new practices in HRM.
Olufunke Adio's session was spectacular. The entire team expressed their satisfaction with the session. We need to have her on more of our programs.
The beauty of engaging with great minds! Olufunke Adio talked about how we can leverage Personal Agility and move away from waste normalization, as we seek to gain traction in our Professional and Personal lives. She shared her GO-CALL Model: G – Growth Mindset O – Opportunities C – Curious A – Adaptability L – Learning Agility L – Limiting Mindset We are deeply grateful for the time investment.
It was an amazing session with an Agile coach. Thank you so much! [Review for HIRING FOR AGILITY MASTERCLASS WEBINAR] 

Pay via Bank Transfer
Bank Name: Guaranty Trust Bank
Account Number: 0269278656
Account Name: OLIVE AND PEARCE

For Enquiries: info@oliveandpearce.com