SET UP YOUR ORGANIZATION FOR SUCCESS!
LEARN TO ADAPT AND NAVIGATE RELENTLESS CHANGE.
SIGN-UP FOR VIRTUAL WORKFORCE AGILITY THEMED SESSIONS.
The time has come for both workforce and management to reskill and retool. Unprecedented change the world over is certainly a major driving force here. Organizational strategies and reviews are shifting from long term to more iterative approach. Innovation and critical thinking is now a toast of the shop floor as opposed to the era where same was domiciled in the top management. Organizational structures are becoming more fluid and flexible, a departure from the widespread hierarchical and bureaucratic system. Leadership is becoming less of command and control and gradually shifting to mentoring and coaching approaches, fostering in the process innovative cultures amongst other benefits.
In order to rise to emerging change; to quickly identity and respond to emerging opportunities; to win and to thrive as opposed to being victims of relentless change, businesses and organizations must begin to think and act differently. New thinking brings about new behaviours.
In an era where underdogs emerge without warning and technological disruptions are the order of the day, we want to join with you in your quest to set up your team for success this year and beyond – starting from where it matters most – Mind-Set. We understand human behaviour and motivation. We've helped organizations shift mindsets and win regardless of the times, now its your turn!
Workforce Agility Transformation Series
Agile Mindset for Navigating Disruption
Learning Agility for Organizational Growth
Workforce Agility
Leadership Agility: Leading and Managing Relentless Change
Digital Agility: Leveraging Digital for Business Impact
Grit & Growth Mindset
Fostering Critical thinking, Creativity & Innovation Culture
Agile Mindset for Navigating Disruption 
Course Description
Why do people fail to access opportunities even where opportunities exist?
Why do employees miss much desired promotion time and time again?
Why do people fail to extend themselves and learn new skills even where advancement in their career depend on it?
Some people find it convenient to give reasons why they cannot make real progress in their jobs:
"I can't learn new skills";
"I'm too old to learn new skills?
"This is the only job I know to do; it's too late to learn anything new"
It is a fact that Artificial Intelligence [AI] I will take away between 14-46% of jobs in years to come. The US Tech giants and emerging start-ups are relentless in pushing the AI agenda. With AI, efficiency is exponentially improved for less. With all indications, the gains will far out way any cons we may know. Probable potential impact will be the loss of certain kind of jobs. Implication of this reality is that people would perhaps need to learn new skills, upskill in existing domains or take on whole new careers entirely. For many this is a scary proposition but it ought not to be so.
Where we are today
Disruption is the new normal: Welcome to the 4th Industrial Revolution!
Scope of Disruption: Barely any industry untouched by disruption
The emergence of whole new industries and a new world of work!
Fearsome Disruption: Rapid Changes, Multi skilling & frequent obsolescence of skills
Learning & Growth: Relevance for personal, organizational and national impact
Impact of Growth & Agility mindset on organizations: Case Study
Inspired by AGILE
What is an Agile Mindset?
The Age of AGILE
AGILE, Agility & Agile Mindset-Clarifying the difference
Agile Mindset for a Disruptive Era
The imperatives of Agile Practices for today's organization
Learning & Growth: the core of AGILE
Identifying & Modifying Limiting Mindsets
Environment; Nurture, Conditioning & Patterns
Influence of Dominant Models
Other Growth Stifling Belief Systems
Positioning for the future
The Power of Self-Awareness- Identifying, Respecting, Growing & Exploring your innate capabilities
The Value of Sound Work Ethics
The Power of Divergent Thinking: Positioning for Opportunities
Soft Skills: When Technical Skills Aren't Enough
Target Audience: Entry-Level, Mid-Level, Top Leadership, Entire Workforce
Full brochure available on Request
Learning Agility for Organizational Growth
Course Description
In the modern landscape, an organization faces unique set of challenges due to increasingly ambiguous, complex, volatile and uncertain market conditions. The mammoth pace of change, disruptions and innovations are the new normal are compelling a fast- changing job requirements and demographic profile of the workforce. This presents enormous challenges e.g. with strategy design requiring a more adaptable approach accompanied by strategic redirections, goals realignments, implication is that skills become quickly obsolete, upskilling and/or the bringing new skills to the fore become highly imperative. On account of this ongoing complexity and dynamism of work, Learning Agility has become one of the most desired competencies for both new recruits as well as existing employees. For a business that desires consistent growth, the need of the hour therefore is to have a workforce who are more than willing to learn new skills at an accelerated pace while unlearning the old skills that are either already irrelevant or will become obsolete soon.
The Normalization of Disruption
Learning Agility. What is it?
Importance of a Learning Agile Workforce for Organizations
Identifying Roadblocks to learning Agility
Learning Agility across Industries
Growing and Driving Learning Agility
Growing and Driving Learning Agility....
Individual Domain:
Organizational benefits are drivable where individuals are capable of foreseeing change and adapting to it before their peers. People who are Learning Agile are comfortable with change. In-fact they look forward to it.
Personal Mastery
Curiosity/Inquisitiveness
Open Mindedness
Disposition to change
Continuous learning
Growth versus Fixed Mindset
Team domain
Teams should be willing to work out what particular change could be required
Push for people who readily validate their ideas with others
Workforce should be open about having honest debate, frank and fair discussions
Big on Collaboration
Creative hubs. The AGILE Example Retrospectives, Customer focus…..
Target Audience: Entry-Level, Mid-Level Leadership, Top-Level Management, Entire Workforce
Full brochure available on Request
Workforce Agility
When a company faces a major disruption in its markets—one that could fundamentally change the business—the way its managers perceive the disruption influences how they describe it to the rest of the organization, how they organize the response, how they allocate resources and ultimately how well the business fares.
A workforce that is unable to promptly address business challenges today implies that business is left unguarded and exposed to the weight of relentless disruptive forces largely because employees are significantly irresponsive on account of rigid and unpliable mindsets.
This course is designed to help individuals and teams gain the orientation and posture required to succeed in a rapidly changing environment hence making success predictable.
Disruptions & the New Normal
The Real Issue with Disruption
Agility as a Panacea for Success in a Disruption
Why Build an Agile Workforce?
What does an Agile Workforce Look like?
A 4-Point Approach for Building Workforce Agility
Starting with HR:
Ascertaining HRs' disposition to change & Upskilling
Determine Learning Agility & Assessments
Curiosity Quotient to understand varied factors affecting the business.
Empowering Existing Workforce:
Ascertain disposition to learning, change, growth, understanding business landscape and associated complexities.
Flexibility: Determining disposition to having honest debate, frank and fair discussions
Value for new ideas; Readily recognize when change is necessary?
Solution Providers: Ascertain willingness to work out what particular change could be required
 Facilitating Executive Coaching:
Unraveling historical disposition to new ideas and/or concepts?
Disposition to other people's ideas?
Learning agility: Are they sufficiently curious?
Ascertaining next level Agility
Target Audience: Entry-Level, Mid-Level, Entire Workforce

Full brochure available on Request
Leadership Agility: Leading and Managing Relentless Change
The need to foster collaboration, drive innovative thinking, instigate adaptability and agile mindsets are now more important than ever. Long gone are the days when leaders emerge in organizations solely on account of their technical competences and without consideration for critical leadership competences. In settings as these, Senior Business leaders are often shocked to find that such leader fail to deliver real leadership to their teams seeing that their team's output consistently dwindle within a short span of time. Our course is designed to transform leaders from 'Barely there' and sometimes even from 'Destructive' tendencies to being 'Transformational', tooling them with leadership essentials to lead and thrive in today's complex environment.
Leadership Agility Imperatives
Providing stability, project a clear strategy and quickly correct course where necessary;
Identifying prevailing and game shifting patterns in your industry;
Making quick but decisive decisions;
Growing agile capabilities;
Driving change;
Fostering an innovative culture; throughout the entire organization and;
Growing resilience and prepare to navigate the enterprise through future crises.
Assessing & Developing Leadership Agility
Levels of leadership Agility - Inspiration from Bill Joiner
3 Domains of Leadership Agility
Intra-Personal Mastery
Intra Personal Mastery: Ascertaining your personal Agility Quotient
Self-Awareness [KCG EQ Model]
Personal agility assessment: Ascertaining your personal Agility Quotient
Your response quotient to change or the idea of it [response-ability]
Your learning agility quotient
Embracing Opportunities
Execution quotient
Building Personal Agility Capabilities
Leading People & Teams
What is your leadership style & why does it matter, the DISC leadership styles
360 degrees assessment
Expertise standpoint
Activator standpoint
Catalyst standpoint
Team Leadership Agility & Resilience
Business, Organizational Excellence & Culture
Business context
Industry context
Target Audience: Supervisors, Mid-Level Leadership, Top-Level Management
Full brochure available on Request
Grit & Growth Mindset
The rate of change in the world today is unprecedented. From digital transformation to development of new business models. These changes are compelling organizational evolution in diverse shapes and forms. More importantly, they are driving a need for a different kind of workforce, a workforce that is innovative, solution and result focused. For organizations to win, their workforce must have a different kind of mindset and orientation, they must be ready to approach business challenges from a whole new perspective. To achieve this, several elements must be harnessed in a focused and directed manner. Foremost is the need to build relevant capabilities vis-à-vis Attitude, heightening competency levels and a readiness and posture to attend to evolving customer needs.
Focus Areas
Introduction
Disruptions & Change: The world has changed. Have you noticed?
Pervasive Technological Disruption
The new Work, Worker and Workplace
Why I created this Masterclass
Thriving in the 4th Industrial Revolution
Multiskilling and Growth Mindset
Growth Mindset and value creation; Making the vital connection
Portrait of the New Entrepreneur; Employer and Employee
Exploring the new skill-set bouquet
Disruptive domains - Ascertaining what employers are looking for
What is Growth Mindset?
The Big deal about Growth Mindset
Growth Mindset Nature or Nurture?
The cheapest path to success
Leverage emerging opportunities, Accessing existing opportunities
Components of Growth Mindset:
Learning Agility, Curiosity Quotient, Feedback Management etc.
Issues with Growth
Fearsome disruption & Popular responses
Unravelling Growth Inhibiting Factors - Environment; Nurture, Conditioning & Patterns, Influence of Dominant Models.
Other Growth Stifling Belief Systems
Understanding the power of Behavioral patterns and growth
Circumventing the issues
Developing New Growth Habits
Articulating your personal Growth Strategy
Stretch: it is ok to stretch
Prioritizing learning - Charting your own path & Shortening the Growth Curve
Extending Beyond Paper Qualifications
Target Audience: Entry-Level, Mid-Level, Top-Level Management, Entire Workforce
Full brochure available on Request
Digital Agility: Leveraging Digital for Business Impact
There's no use competing against AI or resisting the disruptive technological tide. Such effort didn't yield much for those in the first industrial era who resisted and physically attached creators of the steam engine phenomenon an innovation that changed the then world forever.
Since AI would most likely open up other job opportunities than we currently have today, it is important that people within enterprises change their posture to learning and to improvement.
We do not want to become victims of technological disruption. We can position rather to become nimble, gain agility, adaptability and grow new competences that can make you win in the emerging world of work.
Unravelling your digital quotient
The biggest skills to have in a digital and disruptive era
The importance of learning, unlearning and re-learning
Why technology scares the heck out of people and what to do about it
Prevailing mindset that keep people from gaining digital skills and how to modify such perceptions
3 mega hacks to getting quick results from your digital space
Main benefits of digital
Increasing business productivity. 
Gaining a most critical competitive edge. 
Providing new ways of working. 
Increasing revenue 
Building customer relationships
Accessing new product lines
Serving whole new markets
Target Audience: Entry-Level, Mid-Level, Top-Level Management, Entire Workforce
Full brochure available on Request
Fostering Critical thinking, Creativity & Innovation Culture
Course Description
Every enterprise needs to innovate in order to survive. But as they grow larger, new ideas and agile processes tend to find less expression. With disruptions across industries, avalanche of Fin-techs, Artificial Intelligence, retail apocalypse, talent wars etc., organizations are in a flux and are looking to know how to out-think, out-innovate and outmaneuver disruptive threats and competitors. They want to understand what disrupted companies failed to understand in good time.
In order to capitalize on innovation opportunities, enterprises need to leverage their available assets quickly and effectively. Doing so calls for senior management to take responsibility for being transformation-oriented and enabling the conditions that allow innovation leaders to thrive. Achieving this all important goal is at the very heart of this course.
Innovation: The Game changer in a disruptive era
The Era of Innovation
The 10 most innovative companies
Why Innovators Innovate
Innovators across industry domains
Key Characteristics of Innovators
Why we aren't innovating?
Stages in innovation
Dimensions of innovation
Benefits of strategy innovation
Drivers of Innovation
Diverse forms of Innovation
Value creation and Innovation as a moving target
Building a Culture of Innovation
Case for building a culture of Innovation
Big innovation hacks
Identifying innovation killers
Barriers to innovation
Correcting Action
Big innovation hacks
Target Audience: Entry-Level, Mid-Level, Top-Level Management, Entire Workforce
Full brochure available on Request
You Absolutely Need these Courses if you want…
| | |
| --- | --- |
| | A team of associates who consistently produce results, meet and surpass business expectations; |
| | A team that's given to a growth and agility rather than a fixed mind set; |
| | A team that is responsive to change, can extend themselves, stretch and achieve bigger; |
| | A team that takes initiative and are self-motivated; |
| | A team that can focus effectively on objectives and see tasks through to a logical conclusion; |
| | A team that is self-aware, confident in their abilities and can play to their strengths; |
| | |
| --- | --- |
| | A team that is willing to learn and are able to learn fast; |
| | A team that that can identify and break unproductive limiting behavioral patterns; |
| | A team that can acquire creative and critical thinking skills for flexibility in actions, innovation and solving business problems; |
| | A team with an agile and growth mind-set for adaptability and change in a disruption; |
| | A team that can self-lead without expecting to be micro managed; |
| | A team that generates results as opposed to lack luster, 'almost there' and less than average results; |
Hello! I'm Olufunke Adio – Your Course Instructor
Olufunke ADIO
Helps individuals, teams and businesses extend themselves, produce more & EXCEED their goals.
She does these through, Speaking, Training, Facilitating, Consulting and Coaching.
THE GROWTH MINDSET COACH
Known for her timely and flawless execution;
Respected for her exceptional work ethics;
Regardless of task, job or project, platform or scope, she simply delivers;
Has held roles as E-learning Executive, Store Manager, General Manager, Sales Manager, Training Manager, HR Manager across IT, Media and Consulting sectors;
Highly result oriented;
Employed with four organizations;
After exit, was recalled and extended new offers by all four organizations.
THE PROFESSIONAL
Obtained a BSc in Chemistry from the University of Ibadan;
PGD in Industrial Relations and Personnel Management from the University of Ibadan;
Certified Management Trainer [CMD];
Certified Human Resource Professional;
Associate Member of the Chartered Institute of Personnel Management of Nigeria [CIPM];
Certified Behavioral Consultant [DISC] from the Institute of Motivational Living and People-Keys Ohio, USA;
Certified Emotional Intelligence Specialist;
Certified John Maxwell Leadership Trainer;
Certified Customer Service Professional from the ROCKHURST University Continuing Education Center, Inc. USA.
Enthusiast: Cognitive Behavioral Therapy
THE CREATIVE & DIGITAL ENTHUSIAST
Writer of over eighty articles around themes as Agility, HR, Emotional Intelligence, Productivity, Quality Service & Leadership;
Author: 'A Little Girl Inspires';
Creator: 'I CAN MEMORIZE!' Interactive Resource pack for children ages 1-10.
Previous Editor of leadership focused publication 'The CASON';
Designer by nature;
Graphics designer since 2006;
Web host, Domain name registrant, Web designer since 2006;
Web developer/designer, landing pages, opt-in pages at www.oliveandpearce.com;
Chef!

MORE…
With an impressive capacity for growth and improvement, Olufunke Adio relentlessly drives the idea of continuous learning through all of her learning interventions instigating her audiences to extend themselves and maximize opportunities by adopting a resilient and growth mindset. She is in high demand in speaking to and addressing teams on Personal and Business Agility, High Performance and other Productivity related themes.
Olufunke Adio was a co-facilitator on the capacity building intervention delivered in the first ever Virtual Staff Upgrade exercise of the Central Bank of Nigeria, CBN.
Testimonials…Experiencing Olufunke Adio's Work
"...The additional slides were great, the message was crisp, your voice was clear. I am looking forward to the full course. Would like to attend the full course!" Review: Leadership Agility Online Course-Draft

Your designs are...Whao! I have been to your landing page and I like what I see. You did all the designs right?! I'd like to learn design from you. Well done.      For: A-Z of Creating your First Online Course

Great and inspiring session. Thanks Olufunke Adio for the opportunity to learn from you. What we learnt tonight is a full course in an MBA program. NIPCA members are thankful, excited and fired up to be their best in all their spheres of influence! Course: Making Exponential Leaps in Work & Career: Gaining Learning Agility & Growth Mindset

This is a unique product you have released into the Nigerian market. God bless your team as you continue to add value to the development of our great nation. For: ICM Pack with E-learning Interactive Application

It was a great session. Olufunke really broke down the differences between growth mindset and fixed mindset, using practical scenarios, as well as its applications in the workplace. Great session. Gaining Learning Agility & Growth Mindset Session

I have seen the product and I must say it is a very creative work. I respect creative efforts and I commend you. I hope you will be coming up with other themes aside this. For: ICM Pack with E-learning Interactive Application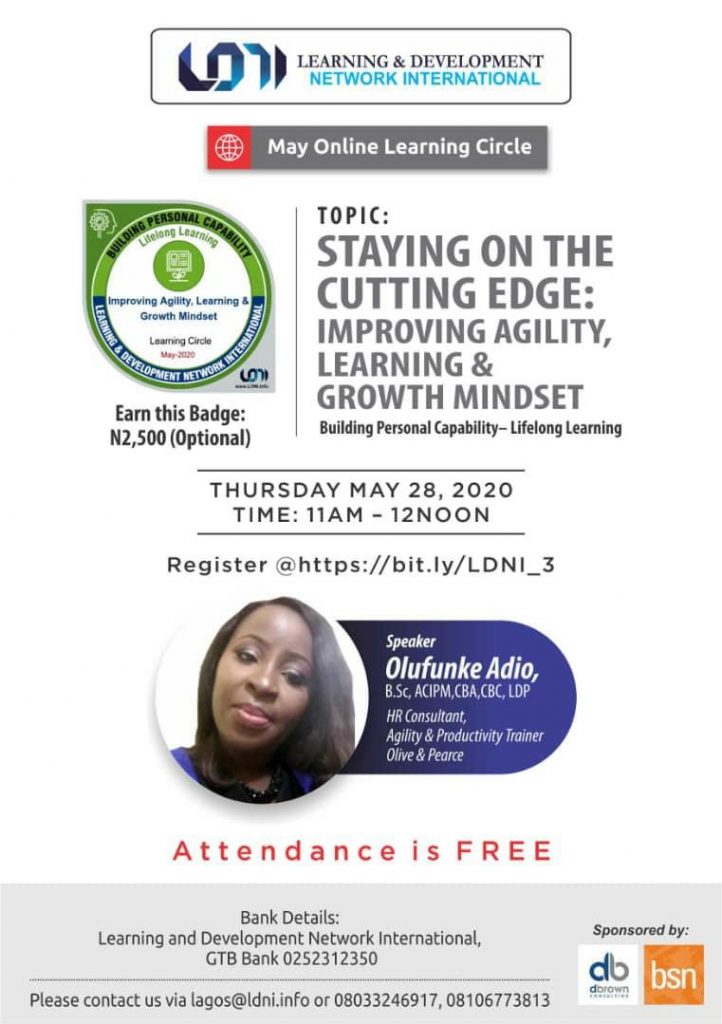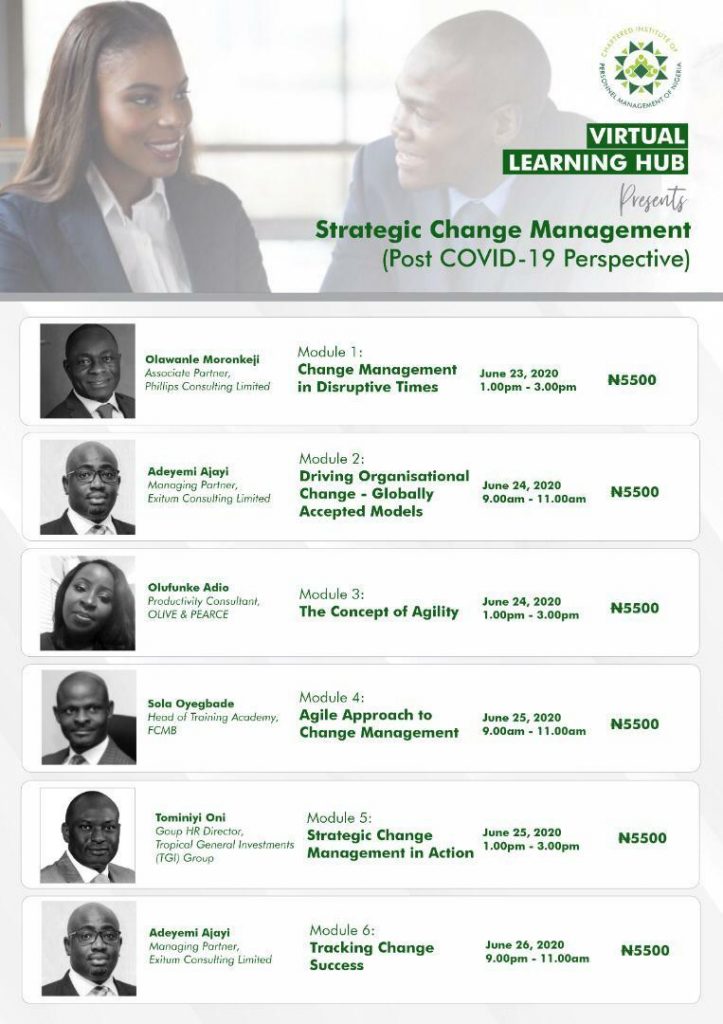 Enquiries: 08022307148, info@oliveandpearce.com.